3 Ply Non Woven Chirurgisch Gezichtsmasker
Non woven Face Mask is gemaakt van non-woven stof materiaal, gebruikt door professionele chirurgen en tandartsen. Het wordt veel gebruikt in situaties zoals ziekenhuis, tandheelkundige praktijken, schone kamer, voedingsindustrie, enz. Die superieure beschermingsniveaus bieden.
Producteigenschappen:
1.Materiaal: nonwoven stof.
2.Layer: 2ply, 3ply.
3.Het vochtige ademhalingsbescherming, gemakkelijke adem, anti-griep, hoge filtratievermogen.
4.Gebruik in het ziekenhuis of door een gewone burger, goedgekeurde CE & ISO certificaten.
5.Soft, lichtgewicht, niet-irriterende, latexvrije maskers.
6. BFE95%, BFE99% filterpapier en Normaal filterpapier.
7. Standaard masker maat: 17.5cm * 9.5cm Standaard Oorlengte Lengte: 17-18cm.
8. Stropdas en Ear Loop (ronde of platte elastiek).
9. Pakket: 50 stuks / doos, 40 dozen / doos of als klanten vereiste.
10. Zachte uitzetbare elastieken niet trekt of irriteren oren.
11.Pleats gezicht naar beneden om pooling te voorkomen.
karakteristiek
BFE
95% or up to 99%

Size
17.5*.9.5cm, 17.5x9.5cm;14.5x9.5cm; 14.5x8cm;12.5x9.5cm;12.5x8cm; 12.5x7cm
Style
ear loop or tie on

Ply tyle
1ply 2ply 3ply
Color
white ,blue, green, pink and so on

MOQ
100,000pieces
Packaging

50pcs/box, 40boxes/ctn

Delivery time
within 30 days after order confirm

OEM
offered
Sample
free of charge

material

nonwoven fabric


Components


Outer Ply: 20GSM or 25GSM/m2 (white/blue/green/pink/red/yellow or other color )Polypropylene Spun bonded

Middle filter ply: 20GSM/25GSM/m2 (white melt blown filter);

inner ply: 18GSM or 20GSM/m2
Productfoto's: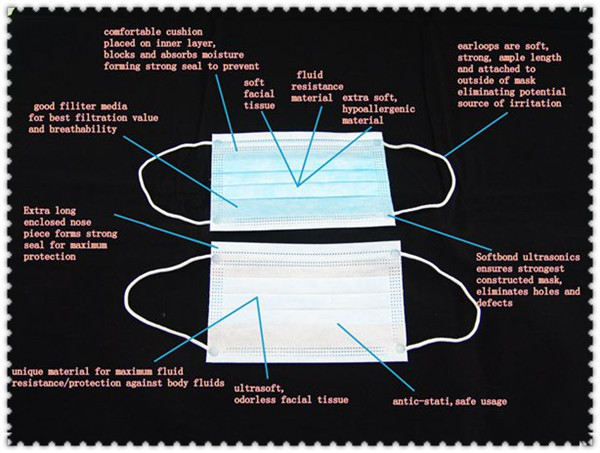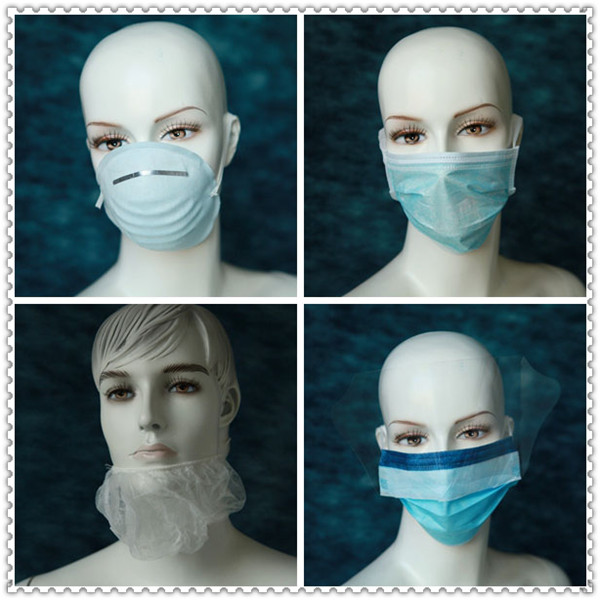 Product Categorie : Beschermende producten